User interface > Transformation of groups of files > Transformation manager > Results
The rows of the table on the result page of the transformation manager contain messages which arise during the transformation of files. Messages are produced by the transformation manager automatically. However, messages, programmed from the user are shown too.
Every message is immediately written into a new row of the table after the message was created. So, the growing row number of the table at the same time shows the progress of the transformations.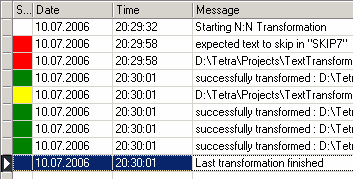 In the first row the status of the message is shown as a color.
| | | |
| --- | --- | --- |
| Color | Status | user defined by |
| | neutral information | AddMessage |
| | success message | -- |
| | warning | AddWarning |
| | error message | AddError |