User interface > Main menu > Menu: Options > User data
There are some settings and data which can be modified by individual users without changing the corresponding data for other users. E.g. the layouts, the environment options but also the project examples are part of these data.
At the installation of the TextTransformer the original user data are written into the program folder of the TextTransformer:
C:\Program files\TextTransformer\data\TextTransformer
When TextTransformer is started for the first time the dialog for the creation of the user data is called automatically to prepare a copy of the data in a folder that can be chosen freely by the user, as far as it is accessible to the user. It is possible to restore the folder later or to create it newly in another place.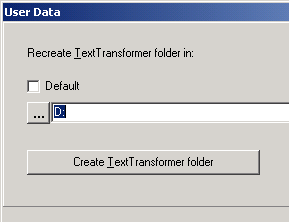 You can start the copying of the data with the button Create TextTransformer folder. In the case of success the Ok button is activated and the Cancel button is deactivated.
An existing Settings folder from a previous installation isn't overwritten. The layouts of the last installation can explicitly imported into the user directory by the menu.
If the folder for the TextTransformer data has been created successfully, it has the following structure:
TextTransformer
\Backup
\Examples
\Frames
\Log
\Projects
\Settings
\Target