User interface > Main menu > Menu: Options > Options of the user interface > Layouts
If TextTransformer changes between editing and debug mode, the layout is changed automatically too. If you don't change the according options, the default layouts are used respectively. On the Layouts page of the options dialog for the user interface you can choose other layouts.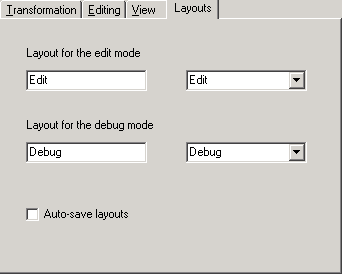 All layouts, which are stored in the Settings folder of the DATA FOLDER, are listed in the selection boxes on the right. You can choose one of them as well for the edit mode as another for the debug mode.
If the box Auto-save layouts is checked, a changed layout will be saved automatically if the mode of the program is changed or if it is closed.