Some links to related works and to partners
Installation video

100% CLEAN award granted by Softpedia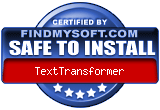 Hello!
I am the FindMySoft.com Editor in Chief.
FindMySoft.com is running a program to certify shareware and freeware software.
We are pleased to inform you that your software TextTransformer 1.0.2 has been tested on 09 Mar 2006 by one of our software engineers and has been found "SAFE TO INSTALL" on any computer. It has been granted the "SAFE TO INSTALL" certificate. This means that your software contains no viruses, spyware, adware, trojans and backdoors and causes no threat when installed.
We would also like to congratulate you for the quality of your product. It exceeds the quality standards of many other software products in its category.
...
Regards!
FindMySoft editorial team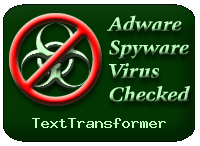 Association of Shareware Professionals
Online source to download free source code and programming tools.

BrotherSoft Review Staff give one product the maximum 5 out of 5 Rating because this product is easy to use, it has a professional-looking interface, it is excellent compared to other programs in this section.
topshareware


freetrialsoft



Deutsch
Latest News
08/10/10
TextTransformer 1.7.5 Improved navigation [more...]


01/28/10
TextTransformer 1.7.4 Sorting node functions [more...]


"...
Fantastic!!!!
... You have exceeded my expectations and I love your product. We will get a lot of use out of it in the future for other projects."

Charles Finley

xformix 23-02-07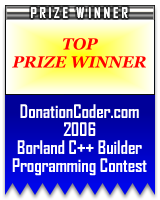 I was extremely impressed with your components and tools. Not only extremely powerful but very professionally done and well documented, etc. Really quality work, congratulations
mouser (First Author, Administrator)
This website is generated from plain text with [Minimal Website ]


Minimal Website is made with TextTransformer


TextTransformer is made with Borland CBuilder