FREE LICENSE
Due to a lack of sales, Digital River terminated my account on June 11th, 2021.
That is why I have now decided to make the standard version of TextTransformer freely available.
In order not to have to change the old, often linked download path, there is now an installation program that contains the key together with the original installer. Please save TextransformerInstall.exe on your computer and carry out the installation. You can then activate the standard version by entering the following key under Help->Registration after starting the program.
Robin Hood
000PM0-534AD7-GGDCRF-VBRUX6-RHZBWB-4NM45Y-CQ2Q88-ZNUMRX
If you are interested in TextTransformer professional (€ 398), please contact me.
In the long term, a Unicode version of the TextTransformer might be released: whether and when this happens also depends on you.

Deutsch
Latest News
02/07/22
Delphi2Cpp: Delphi 10.3 inline variables [more...]


09/09/21
Delphi2CB: has been relased [more...]


"...
Fantastic!!!!
... You have exceeded my expectations and I love your product. We will get a lot of use out of it in the future for other projects."

Charles Finley

xformix 23-02-07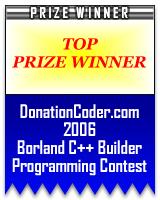 I was extremely impressed with your components and tools. Not only extremely powerful but very professionally done and well documented, etc. Really quality work, congratulations
mouser (First Author, Administrator)
This website is generated from plain text with [Minimal Website ]



Minimal Website is made with TextTransformer



TextTransformer is made with Borland CBuilder