TextTransformer is a worldwide unique tool that soon will become the indispensable helper for your various text remodeling tasks:
The examples are demonstrating that the TextTransformer is a word processing in the true meaning of the word: it makes possible to process the contents of a text by analyzing (parsing) the syntactic form of plain texts.
You easily can use the TextTransformer, even if you never heard about the technologies on which the program is based. The TextTransformer integrates a parser generator, a debugger and a c++ interpreter into a single workbench.

Deutsch
Latest News
02/07/22
Delphi2Cpp: Delphi 10.3 inline variables [more...]


09/09/21
Delphi2CB: has been relased [more...]


"...
Fantastic!!!!
... You have exceeded my expectations and I love your product. We will get a lot of use out of it in the future for other projects."

Charles Finley

xformix 23-02-07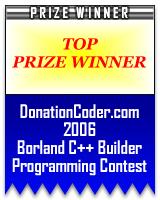 I was extremely impressed with your components and tools. Not only extremely powerful but very professionally done and well documented, etc. Really quality work, congratulations
mouser (First Author, Administrator)
This website is generated from plain text with [Minimal Website ]



Minimal Website is made with TextTransformer



TextTransformer is made with Borland CBuilder